Francesco dell'Orso: his contributions to an international training program in Belgium
---
di Paul Nieuwenhuysen (in linea da: 9 ottobre 2016)
---
To keep our memories of Francesco alive, the following brief text gives an overview of his contributions to a series of international training programs that have been organized at the Vrije Universiteit Brussel, in Brussels, Belgium.
The reason why I write this is that I have been the main organizer of these training programs and that I have invited Francesco several times to make a contribution as lecturer in these programs, when his schedule allowed to come to Brussels and when his expertise seemed useful to increase the quality of the next program.
The main subject domain of the programs was management of scientific information. The aims and contents of the programs have been described in several publication listed in the bibliography below, as well as on the website of the university library http://www.vub.ac.be/BIBLIO/itp/. Each program lasted for 3 months. Participants came from all over the world.
Of course Francesco always contributed on themes that were close to his expertise. These are interrelated:
ISBD = International Standard Book Description; the standard to describe books, articles and electronic resources
Software for microcomputers to manage and format bibliographic descriptions / citations
Z39.50 internet protocol to search various bibliographic databases
The structure of a thesaurus with reference to standards
He contributed:
Besides our professional relation, we found the time to taste a high quality Belgian beer in the old part of Brussels or he visited Antwerpen, the town where I live. These are nice memories.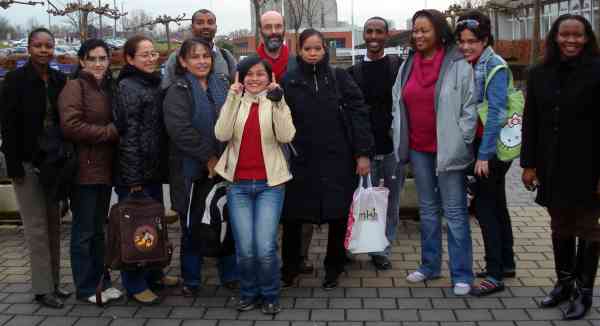 Photo that shows Francesco together with students, participants to the program in 2009.
Bibliography
P. Nieuwenhuysen and P. Vanouplines
International training courses on retrieval and management of information in science and technology. Information Development, Vol. 13, No. 1, March 1997, pp. 23-26.
P. Nieuwenhuysen
An International Training Programme: STIMULATE: Scientific and Technological Information Management in Universities and Libraries -- an Active Training Environment. [online] D-Lib Magazine, ISSN-1082 9873,Vol. 7, No. 2, February 2001, available from http://www.dlib.org/
P. Nieuwenhuysen
International training programs organised in Belgium on scientific and technological information. In Information Literacy in Europe: a first insight into the state of the art of Information Literacy in the European Union, edited by Carla Basili, Consiglio Nazionale delle Ricerche, Roma 2003, 315 pp., pp. 25-38.
P. Nieuwenhuysen
International Training Programs in Brussels related to scientific information and ICT. Full-text paper printed in Proceedings of the Second Open Round Table on Developing countries access to scientific knowledge: quantifying the digital divide. Editors: Hilda A. Cerdeira and Enrique Canessa, Trieste : Abdus Salam International Center for Theoretical Physics, October 2003, 135 pp., ISBN 92-95003-22-5, pp. 35-38.
P. Nieuwenhuysen
An International Training Program in Library and Information Science: Looking Backward and Forward. Education for Information, ISSN 0167-8329 (Print), 1875-8649 (Online) Volume 28, Number 2-4 / 2010/2011, pp. 279-290, DOI 10.3233/EFI-2010-0909 http://www.iospress.nl/journal/education-for-information/
Preprint available free of charge from http://www.vub.ac.be/BIBLIO/nieuwenhuysen/presentations/